Hospitals & Health Systems
Solution Features
Discover how simple we make it to improve credentialing workflows for better outcomes. Our features eliminate functionality gaps that cost you money and expose you to unnecessary risk.
Application/
Verification Management
Acorn integrates directly with credentialing verification sources and automates primary source verification of License, DEA, Board Certification, OIG, NPI and NPDB. Online verification of hospital affiliations is done through stored links.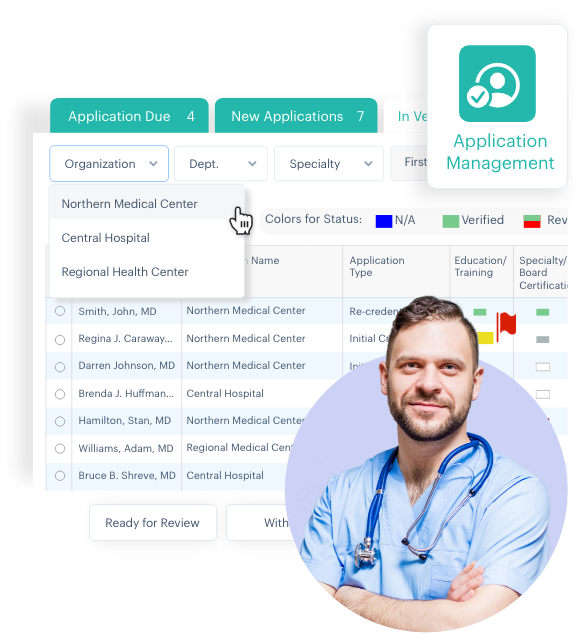 Automatic Verification & Sanction Checks
Online document routing lets you customize workflows. Provider data is automatically updated and verified. CAQH integration means validated data is shared across relevant organizations. Automated sanction tracking eliminates claims risks.
e-Review &
e-signatures
Chair and Committee reviews are completed online. Approval forms are auto-generated along with e-signatures. Acorn's eSignature feature allows signatures to be captured and stored for future use; it autofills signatures in applications and forms. Add customized text or watermarks directly to verification documents that are fully compliant with documentation standards.
Integrated I-Reply Messaging
Electronic verification capture of primary source online responses helps reduce onboarding delays with better communication around the application process.

Robust Dashboard Reporting Tools
Our intuitive interface displays the current status of key performance indicators to support fast decision-making and informed planning. Automated, customizable reporting generates standard reports and lets you create special reports quickly and easily. Pre-built reports are easily produced, stored and scheduled to auto email to recipients. An intuitive Query Tool allows creation of custom-built reports.
ER Call Scheduler
This feature can be deployed to your intranet. It's designed to simplify physician scheduling with easy online shift adjustments. Optimize provider schedules for balanced shift and call distribution. Create an ER call schedule with online access and emails to providers and groups. Export it as a report in a single click.

Big Data / Performance Management Metrics
Cloud computing makes it simple to access massive data sets in Acorn to gain insights that improve efficiency and patient care. Our platform monitors system-wide processes and benchmarks to identify improvement opportunities.
Provider Directory and Privilege Query
Provider data is updated in real time and organized in an easy-to-use directory that is searchable by name and provider privileges. The provider directory is easily integrated with the hospital's website. Categories (i.e. Medical Staff Directory; Committee Roster) can be customized as needed. Privilege Query functionality allows hospital staff to search provider current privileges.
Auditor / Surveyor Tools
The Auditor/Surveyor tool provides a link to surveyors or auditors to access the needed documentation in a central location for demonstrating compliance with requirements for initial appointment, reappointment, and performance improvement activities.
CME Tracking
Some hospitals are accredited by the ACCME to provide CME to their providers. Acorn has the tools to track the internal CME courses and class details, track attendance, and generate the CME certificates and email them in a single click. In addition, the CME class data entry detail includes the required reportable fields and the tools to export the required information in the required format to the ACCME PARS import tool.